Anna Friel Tackles Tough Questions From Gracie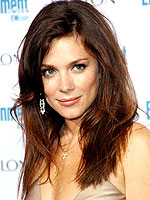 Michael Tran/FilmMagic
Like 5 ½-year-old Ella Rae Wahlberg before her, celebrity baby Gracie Ellen Mary Friel, 4, is beginning to ask questions about when mom Anna Friel and dad David Thewlis will make their relationship official!
While Ella got her wish earlier this month, it remains to be seen whether Gracie will as well. Anna tells NOW that marriage is "the question we're both asked the most," and Gracie often leads the charge. Says the 33-year-old Pushing Daisies star,
"[She] keeps saying, 'Mummy, when are you getting married?' I suppose that puts on a bit more pressure, when your daughter's asking, but if things work, why change them?"
As for whether or not the longtime couple will someday make Gracie a big sister, Anna admits that the issue is on her radar. "I'm wondering when would be the best time to have a second child," she muses. "I think it's something you can't plan. You have to throw caution to the wind and let it happen." If and when it does, however, don't expect Anna to make any announcements!
"I would never tell people that I was trying for a baby. It's like saying, 'Yes, we're having lots of sex.'"
Source: NOW via Digital Spy
— Missy