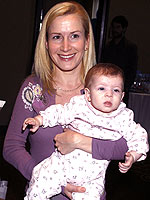 Jeffrey Mayer/WireImage
New mothers are often advised to never wake a sleeping baby, and Angela Kinsey learned the hard way why. The 38-year-old Office star tells Celebrity Baby Blog she tempted fate one day with her 15-month-old daughter Isabel Ruby — with disastrous results! "I was like, 'You know what? She's taking a late afternoon nap, she's not going to fall asleep 'til late, I'm going to pick her up and rock her to see if she'll wake up," Angela recalls. "Mistake! My mom was right."
Isabel's tears that day were hopefully short-lived, but Angela admits she often cries "tears of happiness" when gazing at her first child.
"[Costar] Steve [Carrell] told me when I was pregnant 'Every cliché you hear, you will say or experience.' He was absolutely right…I can't believe she's mine. I can't believe I've been so privileged to have this experience."
Angela counts the Boppy and Cheerios among her mommy must-haves; With regard to the latter she notes, "If I don't have them in a Ziploc in my purse then I'm screwed!" From the sound of things, Isabel is more impressed by a certain fuzzy red friend familiar to many moms, however! "She said 'Elmo' this morning for the very first time," Angela proudly reports.
"She pointed to the TV and said 'Elmo' and I was like 'You are a genius! You will cure cancer!'"
Isabel is Angela's daughter with estranged husband Warren Lieberstein.
– Missy with reporting by Scott Huver