Why Roger Federer Kept His Twins News Under Wraps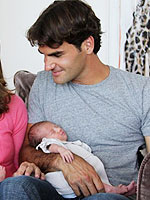 Courtesy Roger Federer
When news broke that Roger Federer and wife Mirka had welcomed identical twin daughters Myla Rose and Charlene Riva on July 23rd, it caught many off guard. Acting on medical advice, the couple initially chose not to disclose that the pregnancy involved more than one baby, and Roger tells The New York Times he decided to "just play along until the very, very end" when reporters failed to ask whether twins were, in fact, on the way.
The 28-year-old tennis ace very nearly spilled the beans, himself, however — on more than one occasion!
"I had to really battle myself. I had a couple [of interviews] where I said, 'We're really excited to have some babies,' and I was thinking, 'Is that already giving it away?'"
Life with Myla and Charlene has been twice as nice for Roger and Mirka, who haven't had trouble telling the girls apart. "I was thinking that they're going to be playing tricks on us like crazy," he says. "But they don't look the same at the moment."
Shortly after his historic Wimbledon win in early July, Roger hunkered down with Mirka in a Swiss hospital where the expectant mother had checked in early. He stayed on after the delivery by c-section, sleeping in the same room with his wife and new baby girls, yet somehow still found time to practice at a nearby tennis court. "I was sometimes very tired," he admits. "Don't know if it was more from practice or from not getting the sleep you usually get."
His break from life on the ATP tour will be short, for Roger will return to action at the Rogers Cup in Montreal this week — with his 2 ½-week-old twins in tow.
"I was obviously only going to do this if everything was safe and good. Mirka went through a check yesterday. The babies have been at the hospital for 10 days, and everything is perfect. So we're doing it. Big family. Big trip. On the bandwagon. I'm really excited to see how we're going to manage it."
The new family of four will be aided by a baby nurse, and while Roger concedes that an extra set of hands is "a big help" he is quick to point out that Mirka is "really hands-on" herself, as well. "I think it's all been working well since we came home for three or four days," he says. "Mirka doesn't mind getting up in the night, doesn't mind feeding the babies at whatever time, changing the nappies."
"For her, if she can't do it, it's like she's missing out on something."
Source: New York Times
— Missy