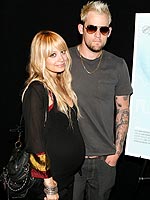 Jesse Grant/WireImage
With Nicole Richie due with their second child in the coming weeks, attentive papa Joel Madden has managed to dodge a bullet when it comes to extreme pregnancy cravings. In lieu of the traditional pickles and ice-cream combos demanded by some women, Joel tells PEOPLE's Celebrity Baby Blog that the expectant mama has kept her list short.
Unfortunately, the simple requests come at a high price: While her cravings may be limited to hamburgers from Southern California's In-N-Out chain, the sudden hunger pangs can occur any time – day or night.
"It's not so much the craziness of the craving, it's just when she craves it – it's usually about 2 or 3 in the morning, and that's on me," Joel, 30, said Thursday at the Gap 1969 Jeans Shop launch party.
"I'm the one that has to run out — either go make her a sandwich or go to In-N-Out or whatever she wants at any given time. It's not unheard of stuff she wants, it's just that when she wants it is inconvenient for me."
Joking aside, the Good Charlotte rocker — already father to 18-month-old Harlow Winter Kate — couldn't be happier to be adding to the family. "We're very, very blessed. We've already had one healthy kid and that's all you can ask for as a parent, healthy kids," he notes. "This [pregnancy] is going great."
– Anya with reporting by Shruti Dhalwala