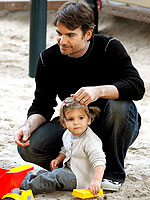 The Media Circuit/INF
NASCAR star Jeff Gordon's daughter Ella Sofia, who turned two in June, isn't sure what her daddy does at the track, but she recognizes that his work involves sitting behind the wheel.
"She knows that I have a race car for work and when she sees [one] at the track she says, 'Go papa go!'" Jeff, 38, told Celebrity Baby Blog late last week at The Glen in Watkins Glen, NY, where he was preparing to race in the NASCAR Sprint Cup Series. Ella planned to be on the sidelines "cheering him on" during Monday's race, after being rained out Sunday.
Jeff and model/actress wife Ingrid Vandebosch celebrated both his and Ella's summer birthdays by spending relaxing days with the family, just enjoying being together, he says.
For Ella's birthday, Jeff was racing in California so the trio enjoyed a cake and baby cookies at the resort where they were staying rather than throw a party at home.
"Ella loved the chocolate mice that went along with it," Jeff tells PEOPLE. "For my birthday earlier this week, the three of us spent a quiet day together in the Hamptons. Ella is a miracle and has changed my life. I love doing things with her."
The race car driver likes to take his daughter to parks, museums, kids classes, Gymboree and other family places, and has also enrolled Ella in day camp this summer — to positive results.
"I am still awaiting her terrible twos behavior," Jeff reports. So far any transition has been mild, he says, although he sees more of her personality now, and negotiations to get her to do things are bit more difficult.
"When it is time to eat, time to nap, or time to stop playing, we have to nudge her a little harder but she is such a doll, I can't really call it a major change in behavior," explains Jeff. "When I wake up in the morning and experience her energy, she lights up the room, and I lose sight of everything else in my life."
Click below to see if Jeff and Ingrid plan on a second child.
Despite the joys of having his own personal pep rally, Jeff, who is recovering from back pain, is not quite ready to expand the cheering section.
"Ingrid is a great mom and we both really want another child, but we are still adjusting to Ella so it may be awhile," he admits. "We will be happy with either a boy or a girl. We aren't picky. We have such great moments with our girl."
Meanwhile, Jeff is also busy focusing on racing and gearing up for a very busy fall season, which will see him traveling all over the U.S. with NASCAR.
"I'm buzzed, in good shape and optimistic we will do well," he tells us. "And with the great family atmosphere in our bus lot, Ella and Ingrid can come watch me on weekends. I love it!"
– Linda Marx