Heidi Klum Says She and Seal Are 'Not Into Pink and Blue'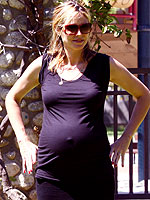 GSI Media
After a hectic summer shooting the seventh season of Project Runway, Heidi Klum is ready to spend the remainder of her pregnancy preparing for her fourth child, a girl due in mid-October. "We're going to go on a holiday for a few weeks," she tells the Los Angeles Times of her family plans. Once the brood returns home, the expectant model admits she will most likely resort to full nesting mode, organizing her newborn essentials for the big day. "When you're close to the end — I wanna rearrange the whole house!" she laughs.
Fortunately, not much decision-making is needed when it comes to the nursery; Heidi reveals that her children always sleep in her and husband Seal's bedroom for the first year. "I just need a crib and a changing table," she says. As for the rest of her baby girl's gear, Heidi will be looking through the items she used for her daughter Leni, 5, and sons Henry, 3 ½, and Johan, 2 ½.
"To be honest, most of the things for the kids are hand-me-downs. There's a piece Leni had, I took it from her. This piece used to belong to Henry. I was like, 'You're going to get something pink, you'll be fine!' And we're not into pink and blue."
As she finalizes her arrangements and looks forward to the delivery, the 36-year-old will be able to gather her thoughts next month. "In September, they're all in school!" the proud mama boasts. According to Heidi, if the initial testing of the children is a glimpse into the future, the transition into the classroom will be a smooth one. "You sit in another room and they get evaluated, and Johan did all the puzzles. He impressed them."
Heidi has made it clear that the family will be complete with the addition of baby girl, but jokes that her tattoo — made up of Seal's name with three little initialed stars to represent each of their children — has plenty of room for expansion! "See, I planned ahead," she slyly notes before adding, "But the fourth will be the last one."
The latest season of Project Runway premieres August 20th at 10 p.m. on Lifetime.
Source: Los Angeles Times
— Anya