Elisabeth Hasselbeck Welcomes Son Isaiah Timothy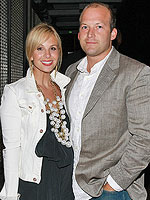 Mike Coppola/FilmMagic
It's another boy for Elisabeth Hasselbeck and her husband of seven years, former NFL quarterback Tim Hasselbeck. The 32-year-old co-host of The View welcomed son Isaiah Timothy Hasselbeck at 2:49 p.m. Sunday, August 9th in New York City, according to a blog entry posted to the official site of the ABC talk show. In a phone interview Tim went on to reveal,
"Elisabeth and Isaiah are doing great and we're excited about the addition of another baby boy into our family."
Weighing in at 7 lbs., 7 oz., Isaiah joins big sister Grace Elisabeth, 4, and big brother Taylor Thomas, 21 months, at home. The pregnancy was announced in January. Elisabeth's due date would have been August 11th.
Source: The View