Tiffani Thiessen To Focus on Career Now, Babies Later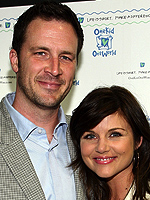 Alberto E. Rodriguez/Getty
Despite revealing that she and her husband Brady Smith are looking forward to starting a family, for now, Tiffani Thiessen is concentrating her efforts on her career. Recently cast on White Collar, the actress hopes to channel all of her energy on her performance. "We've talked about [having kids], but the show started, so we're going to wait and try to figure out when the best time is," she tells Celebrity Baby Blog.
"I don't want to spring a pregnancy all of a sudden on a brand new show that I just got on!"
Fortunately, as a result of her active lifestyle — she calls herself "extremely athletic," a dedicated runner and cyclist —  Tiffani admits she does not feel her age and, in turn, has yet to hear the tick tock of her biological clock. "Maybe because I don't feel 35," she says. "I have friends who have kids in their forties. I'm not worried about it."
Once the couple do take the plunge and expand their family, the former Saved By the Bell star plans to steer her kids clear of any future in the acting industry. "I don't know if I'd ever want that for my children, but I have to say, knock on wood, I had a very good experience with it," she admits. "I had a very normal family…we all live close by. I couldn't be more traditional in that sense and so I think that had a lot to do with it, too."
Tiffani and Brady celebrated their fourth wedding anniversary on July 9th.
— Anya with reporting by Scott Huver