Meet Kenzo Lee Hounsou!
Update: Interview and photos added!
Originally posted August 5th: Meet Kenzo Lee Hounsou! Kimora Lee Simmons and Djimon Hounsou introduce their 9-week-old bundle of joy in the latest issue of OK!, on newsstands now.
Shot at the Hawk Nest estate in the Saddle River area of New Jersey, the Baby Phat CEO and her actor husband (yes, the rumor that they married in Africa was true!), along with big sisters Aoki Lee, 6 ½, and Ming Lee, 9 ½, show off their "very calm, very happy" baby boy.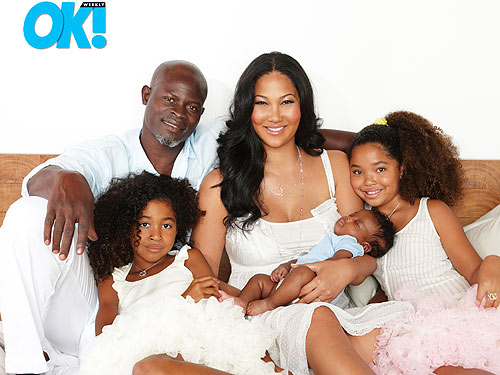 Melanie Acevedo/Courtesy OK! for use on CBB
Click below for the interview and another photo!
What was your concept for this photo shoot?
Kimora Lee Simmons: "I believe the blended family is the look of the new American family. The majority of Americans have a step-this or half-that. I wanted to portray that and show that it is possible to have one with so much love and happiness."
The girls seem to be adjusting really well to Kenzo.
KLS: "They're so excited! They think they are little mommies. They want to change his diaper and take care of him, and feed him a bottle and hold him all the time. It's funny because the girls say, 'We're going to dress the baby up!' Djimon's like, 'No! You're not going to be pinning tulle to the boy!'"
What does the name Kenzo mean?
KLS: "Kenzo means third and wise [in Japanese]."
What's his personality like?
KLS: "He's very calm, very happy, he gurgles and talks!"
Is he more like you or his dad?
KLS: "He has a very fiery little temper, and we always joke that we're not sure who that is. I am kind of known for being fiery, but Djimon is the 'calm fiery' before the storm."
How different is it raising a boy?
KLS: "He eats like a dinosaur! He's strong, and his cry is strong. The girls were softer. When you hold him, he squirms right up out of your hands. I can tell as soon as he gets that foot on the ground, I'll probably never be able to hold him again."
What was your labor like?
KLS: "Oh, my God, it was a long labor. This was from about 9 o'clock at night to 11 o'clock the next morning. I was so surprised because they say your third child is supposed to pop out, but he did not pop out. It was like baby number one all over again."
What did you think the first time you held him?
KLS: "It was amazing. During labor I thought, 'We should call Africa!' So we had Djimon's family on the phone in Africa on speaker so they could hear the pushing and the first cry."
So how is Djimon doing as a first-time dad?
KLS: "He's so hands-on. He holds the baby, and he flicks the doodies. You wouldn't think a guy would be so hands-on, so supportive, so strong yet so gentle."
Your life has changed so much in a short period of time.
KLS: "I'm really blessed. I'm in a great place. I'm a little older — even though I'm 26 forever; we know that! I don't really know how to put my finger on it exactly, but I feel like I'm on my second wind."
Tell us about your secret wedding.
KLS: "We visited Djimon's family in West Africa. He had a street named after him and he was knighted so his whole family was there. It felt very, very right. We just knew that it was right. I knew from the beginning that he was the one."
Did he propose on one knee?
KLS: "It was a combination of things. We were there in the moment, but he did ask me, and he did get on his knee."
Are there more kids in your future?
KLS: "I feel like I could go again right now. It would be a lot taking care of a baby 24/7 and two older girls, plus a huge career to balance. But I feel like I'm up for it again."
When do you start filming your Style-Network show Kimora: Life in the Fab Lane?
KLS: "September! I'm in pre-production right now. It's a little bit later in the season obviously because the baby is here, and he's the big focus of the moment."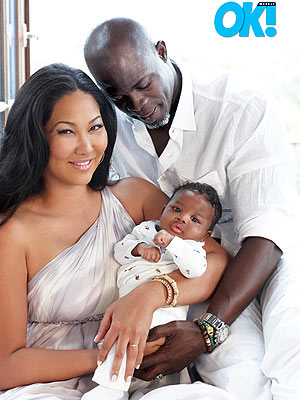 Melanie Acevedo/Courtesy OK! for use on CBB
How do you balance everything?
KLS: "I'm up all day and all night. I never got a maternity leave. I was in the office taking meetings with Macy's and everybody else the day before I went into labor. But times are great."
So life is good…
KLS: "For a lot of reasons we're very happy, and things are happening, and Djimon is ecstatic obviously. And I'm a soccer mom — who would've thought? If Djimon is not on set, he's a soccer dad, too. That's what we do."
So does that mean you drive a minivan?
KLS: "No, I have a Cadillac truck. And some days I come in a convertible Bentley and I have to put everybody else in the Cadillac."
Do you make sure one of you is always home and alternate?
KLS: "We never leave the children for longer than a couple of days; one of us is definitely home. We try to balance our lives and schedules. We always put family first."
Source: OK!, August 17th issue
See Kenzo's photo gallery at OK!, then come back and leave your comments!