Saturday Night Live's Bill Hader to Be a Dad!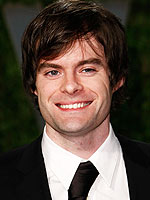 Michael Buckner/Getty
It's no joke: Funnyman Bill Hader's wife is pregnant with the couple's first child.
At Wednesday night's Paper Heart premiere in New York City, the Saturday Night Live star proudly showed off wife Maggie Carey's burgeoning baby bump.
"I'm really excited," Bill told PEOPLE of becoming a first-time dad. "I think it's going to be awesome."
Bill joins the ranks of other SNL parents – Amy Poehler and Maya Rudolph among them – but says he'll be the only current cast member with a child come fall. "So everybody will have to understand when I'm really tired," he joked. "Kidding – I'm actually handling it well."
As for mom-to-be Maggie, Bill says she's been "great" throughout her pregnancy. "She's awesome," he shared. "Way tougher than I am." Though the couple doesn't know the sex of their child, Maggie does know one thing for sure: "Bill's going to be a really cute dad!"
The couple, who married in 2006, expect their new arrival at the end of September.
Source: PEOPLE