Anne Heche: 'The Miracle of Life is Dumbfounding'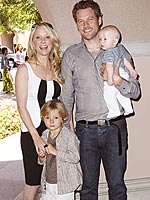 Kevan Brooke/AdMedia
Threats of a possible actor's strike are never welcome news in Hollywood, but when actress Anne Heche discovered she was expecting her second child, the coincidental timing was truly a gift. "I really had moments with [my son] Homer and [partner] James [Tupper]," she tells Celebrity Baby Blog, adding that the unique opportunity gave her time to slow down and enjoy her pregnancy. However, the break was short-lived! Only a week before delivering her second son — Atlas, now 4 ½ months — Anne signed on for her new series Hung.
"I was able to convince them [I'd be] in somewhat of enough shooting shape by eight days after when they were planning to shoot. So I had the baby on [March] 7th and started shooting on the 15th."
On such short notice, the new mama wasted little time in regaining her body after baby. Although she "never work[s] with a trainer," Anne quickly began to shed the pregnancy pounds by running, in addition to concentrating her efforts on her abdomen. "I knew [my character] had to be in bathing suits, so I think I probably focused on a few more sit ups," she says. Despite her commitmento weight loss, the 40-year-old admits she also received a bit of help from the crew! "They were excited enough about me playing the role that they would work with me a little bit and then we just gradually are working towards that, what I joke…my TV body," she laughs.
While navigating motherhood the second time can be easier, the birth of a child is far from mundane. "Obviously, the miracle of life for a mother is just dumbfounding," she notes. "It's so hard to explain how wonderful it is to look in the eyes of a child that you're blessed with." That said, Anne finds herself considerably "calmer" with Atlas, reminding herself that she lived through the newborn stages once before.
"I think that helps as a mom, to be able to really take in the experience in maybe just a little bit slower way rather than being just so panicked about whether you're doing this right."
Fortunately, Atlas is making the journey that much easier! "He's just so easy I can't believe it," she boasts. "He cracks a smile every time he opens his eyes and he's a real bundle of joy." For 7-year-old Homer, the addition of baby boy took a bit of getting used to, but the proud mama reports that the brotherly bond is stronger than ever. "It's hard to share attention," she explains. "I mean, everyone says that, but he's really found his stride now and he's very protective of him."
As for first-time father James, Anne never doubted his parenting abilities after seeing him with her first son. "He was so good with Homer and he and Homer have such a wonderful relationship," she shares.
"I used to tease him that I was really having the baby more for him because he deserves so much to have a son of his own…because he was such a wonderful dad. So there was certainly no concern. He's really, really wonderful with kids."
Homer is Anne's son with ex-husband Coley Laffoon.
— Anya with reporting by Scott Huver