Kyle MacLachlan Embraces Short-Order Cook Syndrome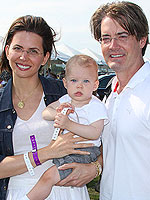 Splash News Online
In the latest installment of "My Day on a Plate" for Gourmet, actor and avid home chef Kyle MacLachlan makes it abundantly clear that life really is all about baby — in the kitchen, at least! "Everything food-wise for me is focused on my [1-year-old] son Callum [Lyon]," Kyle happily concedes. "I'm like a short-order cook!"
The column has subjects identify everything they ate, drank and prepared over a 24-hour period, and in the case of Kyle and Callum — who turned 1 on July 25 — the answers are downright delicious! Kyle notes that he recently purchased a double boiler which he's been using to experiment with scrambled eggs "because babies need good protein and full fat." In his effort to keep Callum happy, healthy, and well-fed, Kyle says his own food preferences have become secondary.
"Every morning I have to come up with a menu for him — is it going to be oatmeal or muesli or toast with a little bit of yogurt on it? So I'm really just an afterthought."
Lunch for dad on the day in question consisted of fresh peaches from Whole Foods, which he then used to make a peach purée for baby boy. The following day, the midday menu consisted of a parsnip-carrot-potato medley with spinach and cheese. For dinner Kyle, 50, roasted some root vegetables and prepared a cherry-tomato sauté with garlic, cream, basil and chicken stock, which he then puréed and tossed with noodles. "He couldn't get it into his mouth fast enough," the proud papa reports. "It's amazing to think of the nutritional responsibility you have in cooking for a kid, which then makes you wonder if you're getting enough yourself," he goes on to note.
"That's the thing I'm finding with cooking for Callum — it's not so inspiring to cook for oneself, but it's inspiring to cook for someone else…It's been a real mind expander."
Callum is Kyle's son with wife Desiree Gruber.
Source: Gourmet
— Missy