Kimora Lee Simmons Says Kenzo is a 'Good, Calm Baby'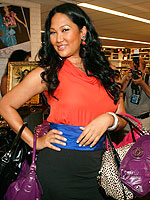 Thos Robinson/Getty
After giving birth to baby boy Kenzo just nine weeks ago, Kimora Lee Simmons is already back on her feet and cutting down her post-pregnancy weight with the help of a few famous friends. "Tyra [Banks] came over and yelled at me this weekend about eating too many carbs," Kimora told Celebrity Baby Blog at the JCPenney's Manhattan store opening Friday, which sponsored the Children's Aid Society. "So I'm trying to have a better lifestyle."
After junk food cravings during her pregnancy — pizza especially — Kimora is now finding ways to get back on a healthier track.
"I'm trying to think better about my choices in what I eat. But I can't really diet, I'm not disciplined enough. This is why I look a little wide. But it's okay! Women of all shapes and sizes, that's what it's all about with Fabulosity."
Kimora, 34, who unveiled her self-proclaimed "baby" of another kind July 31st with the launch of her Fabulosity line for JCPenney, calls Kenzo a "good, calm baby," a welcome contrast to her busy lifestyle. Kenzo, according to Kimora, means "third" and "wise" – the latter of which she says he gets from his papa, longtime boyfriend Djimon Hounsou.
About how she's been trying to lose her post-pregnancy weight this time around?
"Breastfeeding really helps, and sometimes I hit the treadmill with Djimon, but I've only done that four times."
She also gets much-needed assistance from two helpers of her own — daughters Aoki Lee, 6 ½, and Ming Lee, 9 ½, from her previous marriage with music mogul Russell Simmons. "They're like little mommies," Kimora says.
"They change the diapers, they push strollers, and when I take him into their room to tuck them in at night, they want him to get into the bed too."
— Joyce Chen