Kelly Rutherford: Motherhood is 'Easier' the Second Time Around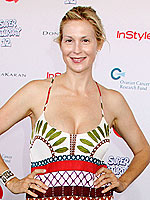 Fame
A day on the job often provides fathers-to-be a temporary respite from the ever-changing emotions of an expectant mama. For Gossip Girl actor Matthew Settle, however, there was no escaping the pregnancy hormones! "He was dealing with two pregnant women at the same time, one at work and one at home," the actor's co-star Kelly Rutherford tells Celebrity Baby Blog. "It was funny for awhile…but it will be a little easier now."
Fortunately, Kelly — and the props department — were too busy concentrating on concealing her growing baby bump from the camera to focus on much else. "Bigger handbags and jewelry," she reveals. "And the bags kept getting bigger and bigger and we used big jewelry to distract viewers." While the task of keeping her belly under wraps was uncharted waters for Kelly, things quickly fell into place when it came time to welcome her second child, daughter Helena Grace, 8 weeks.
"It was a little easier this time. I knew what to expect a little bit. I'm sleep walking, basically."
Completely elated with motherhood — the 40-year-old actress is also mom to Hermés Gustaf Daniel, 2 ½ — Kelly refuses to focus on regaining her figure, and instead is intent on spending time with her children. "I haven't put pressure on myself to get back in shape," she explains, before adding that the dessert menu is always worth a glance. "I think nursing helps and just running around and being a full-time mom. My son starts preschool in September, so I'll probably start yoga while he's in school."
Hermés and Helena are Kelly's kids with estranged husband Daniel Giersch. Matthew and his wife Naama Nativ are parents to daughter Aven Angelica, 5 months this week.
— Anya with reporting by Jeffrey Slonim