Brad Paisley To Sons: Visualize, Then Achieve, Your Dreams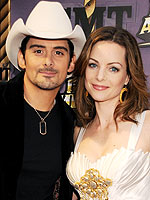 Jeff Kravitz/FilmMagic
Brad Paisley has made no secret of just how much sons William 'Huck' Huckleberry, 2, and Jasper Warren, 3 months, have inspired his music and when it comes to what will someday inspire the boys, Brad says he hopes they will dream big. "Visualize what you want out of life with all your might," he tells Readers Digest when asked what advice he plans to give Huck and Jasper. "Close your eyes and build it in your mind."
"If you want to be an architect, visualize the things you want to build. If you want to be a songwriter, visualize the effect your music will have on the audience. That's what I do. If you don't dream about what you want, it will never come true."
Watching Huck turn "into a little man" is cited by the 36-year-old country crooner as the best part of fatherhood thus far. "He's obsessed with the heavy equipment we have on the farm," Brad notes. "I've got a mini-bulldozer, and he's been riding with me since he was three months old." All the experience has paid off! "Now he can run it because it's all hand controls, kind of like an Atari game," Brad proudly reports. And while Huck is hands-on around the barn, dad enjoys being hands-on in the nursery!
"I think the days of men saying they don't [change diapers] are over. I'd like to see the guy who pulls that off now. No, I'd actually like to beat up the guy who says he pulls that off."
Brad's marriage to actress Kimberly Williams-Paisley works because he says the 37-year-old actress is "a real person." It also helps, he says, that both are byproducts of marriages that have stood the test of time. "When you come from two families in which your parents have strong relationships, it's less of an option for you to be the first in your bloodline to break up," he says.
Reiterating earlier statements, Brad goes on to give Kimberly full credit for naming their latest creation.
"Before Kim was pregnant, she came to me and said, 'I dreamed that we had a little boy and named him Jasper.' I said, "That's cool! I don't know anybody named Jasper." It works both for a guy 90 years old and a little baby."
Source: Readers Digest
— Missy