Ani DiFranco Grateful For 'Me' Time Before Becoming a Mom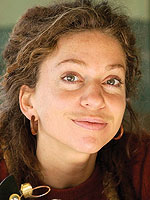 Bill Haber/AP
When she learned that she was expecting a baby, Ani DiFranco feared what motherhood would mean for her music. "I had a little bit of resistance to the idea of taking energy away from my work, and the baby comes along and, lo and behold, that's exactly what happens," the 38-year-old songstress concedes in a new interview with the Daily Camera.
Happily, it's a change that was long overdue. "I did a lot of work with myself over the course of being pregnant and the first few months of being pregnant," she explains. "It's nice, the pace of being pregnant; it gives you a long time to not just germinate a baby but germinate the mother that you're gonna be."
Noting that being mom to 2 ½-year-old Petah Lucia "takes a lot of patience," Ani goes on to express how "thrilled" she is that "more and more women [are] becoming mothers later in life."
"There's a lot of sacrifice involved. I had 20 years of just working non-stop, so for me to slow down and redirect a lot of that energy feels great right now and it makes me a happy mother, and I wish for a lot of women that they get a lot of 'me' time in either before or after [having] kids."
Fans need not worry about Ani losing her edge, however. Despite all the changes she has undergone in recent years — including marriage to Petah's father, music producer Mike Napolitano — she reports: "I still feel very much like myself." Petah gets credit for pulling mom off her "hamster wheel," however, and Ani notes that "as opposed to doing, I'm just being."
"You really have to be present and just go with the flow, follow the moment with a kid and I think that's helping me get back to myself in a way."
Bringing baby girl on tour has also opened Petah's eyes to the notion that mom is often considered "public property." When the two are leaving a venue, there are often fans angling for a moment with Ani; While Ani herself is happy to oblige, Petah is not so generous! "She is my alter ego," Ani notes.
"She's like, 'F– you! F– off! She's mine now. You've had her all night and now she's finally mine. Go away. This is my mom now.'"
Source: Daily Camera
— Missy