Diana Krall on the Importance of Music to Twin Sons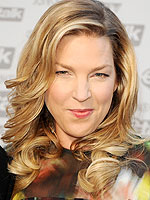 George Pimentel/WireImage
With Diana Krall for a mom and Elvis Costello for a dad, nobody could blame 2 ½-year-old twins Dexter Henry Lorcan and Frank Harlan James for being a little particular when it comes to music. Their preferences, however, just might surprise you.
During a recent interview with NPR, Diana revealed that the twins' favorite movie is Toy Story; While they "love" Randy Newman and Lyle Lovett's song "You've Got a Friend in Me," it is actually a brief musical interlude called "Buzz is Going Fast" that gets them buzzing like no other! "They for some reason are obsessed with that passage," the 44-year-old songstress explains before launching into the song on the piano, herself. "Sometimes I play for them, and they aren't really that interested…they don't care. [But] once I start into [Buzz is Going Fast] they're running around, and they've got their space shuttles…"
"All of this goes into the music at night, and the stories I tell the audience. These beautiful boys who are 2 ½ are running around to a Randy Newman score, only a few bars but they are affected by it. It's interesting to see two 2 ½-year-old boys so strongly wanting to hear that passage in particular, over and over and over again. That's the importance of music and how we live."
Right now, music has everything to do with how Diana and the boys live. On tour in support of Quiet Nights, she admits that it can be a challenge to balance their needs as toddlers with her needs as a performer. "I'm on the road with 2 ½-year-old boys who, before I came here, they wanted to go outside and play outside," she shares. "They wanted to go down the slide. And I'm like, 'Where can I find a slide?'"
From the sound of things, however, she wouldn't have it any other way.
"We're moving house every day, and like I said, I'm probably as fatigued as I've ever been. But in some ways, it's that fatigue that gives you a strong sense of self — what you want to do [makes you] more relaxed, focused."
Source: NPR