The Name Game: Oldies But Goodies
Julia Roberts wowed the fashion world in a vintage Valentino gown while accepting the Academy Award for Best Actress in 2001, but her love of all things vintage didn't end there. She went on to select vintage names for all three of her children with husband Danny Moder — 4 ½-year-old twins Hazel Patricia and Phinnaeus Walter, and 2-year-old Henry Daniel. According to nameberry.com co-founder Pamela Redmond-Satran, Julia was simply following a popular trend. "Celebrity parents are leading the way for the rest of us by reviving some of these old-fashioned names, dusting them off, and making them seem fresh and new."
So what's the appeal? Pamela explains,
"Vintage names are finding favor with parents who want something a bit different from the classics such as Elizabeth or David that have been widely-used for decades, but that still have deep roots and staying power, that go beyond the name of the moment."
Some names, it appears, never go out of style — and if they do, it's only temporarily! Pamela notes that just this week, the name Mae was selected by former Crossing Jordan star Kathryn Hahn; Other timely examples include Adele (chosen by Molly Ringwald), Marion (by Sarah Jessica Parker), Helena (by Kelly Rutherford), Mabel (by Chad Lowe) and Phoebe Margaret (by Julianne Nicholson and Jonathan Cake).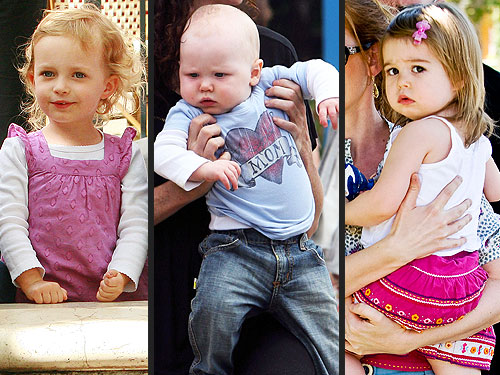 Violet Grohl, Henry Driver, Olive Baron Cohen — Splash News Online; Mike/Fame; Bauer-Griffin
Click below to read about which celebrity baby had the biggest impact on the trend!
In the not-so-recent past, celebrity baby girls with vintage names include Alice (chosen by Tina Fey), Agnes (by Elisabeth Shue), Clementine (by Rachel Griffiths and Ethan Hawke), Daisy (by Meg Ryan), Honor (by Jessica Alba), Olive (by Isla Fisher and Sacha Baron Cohen; see above right), Ruby (by Charlotte Church, Jillian Reynolds and Tobey Maguire), Sadie (by Adam Sandler) and Stella (by Tori Spelling). Even mom-of-six Angelina Jolie — who has historically eschewed traditional names — chose a vintage moniker for one of her children, 1-year-old Vivienne. It was a certain 3 ½-year-old perennial Celebrity Baby Blog fave who made the biggest splash of all, however. Notes Pamela,
"Jen [Garner] and Ben [Affleck]'s bold choice of Violet did much to promote the vintage trend in names among Hollywood parents."
Not long after, of course, followed 3-year-old Violet Grohl (Shown above-left, as chosen by Dave Grohl).
Baby boys have also benefited. There is Augustin (chosen by Linda Evangelista), Felix (by Gillian Anderson and Barry Watson), Henry (by not only Julia Roberts, but also Heidi Klum and Minnie Driver; see center photo above), Ignatius (by Cate Blanchett), Leland (by Brendan Fraser), Samuel (by Naomi Watts and Liev Schreiber), and Sebastian (by Kim Fields).
On the U.S. popularity list, vintage names at or near the top of the list include six of the top 10 girls' names. They are Emma (#1), Isabella (#2), Emily (#3), Olivia (#6), Sophia (#7) and Abigail (#8). For boys, popular vintage names include Jacob (#1), Ethan (#3) and Joshua (#4).
As for vintage names which are steadily on the rise but haven't yet cracked the top ten, Pamela singles out Ella, Grace, Lillian, Lila, Evelyn, Emmeline, Cora and Clara for girls; For boys, she says to watch out for Nathan, Elijah, Lucas, Owen and Josiah!
In addition to her work with nameberry.com, Pamela has co-authored ten baby-naming books with Linda Rosenkrantz. Their newest title, Beyond Ava & Aiden, is available now.
— Missy
Did you, or will you, select a vintage name for your child? Which vintage celebrity baby name is your favorite?