Leslie Mann: Family is 'Way More Fun' Than Work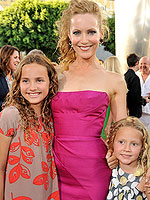 Kevin Winter/Getty
Like all working moms, Leslie Mann is trying to strike "a nice balance" between career and family — but the latter will always win out. "They're way more fun than work," she tells the OC Register of husband Judd Apatow and daughters Maude, 11, and Iris, 6. "It is fun to act, but it doesn't add up to much." In fact, the 37-year-old actress scores her pre-mom life as a "2" — a "dark" and difficult time where she thought only of her career. "That's what you do when you're young and single," she notes before adding,
"I feel like I just started coming into my own when I had kids. They have enhanced my life in every way possible. I would not change anything…When I'm on my death bed, I'm not going to go: 'I wish I had done [more acting] instead of spending more time with my kids.'"
Sometimes, however, Leslie is lucky enough to combine both. The girls have made appearances in two of their dad's films — Knocked Up and the new release Funny People — but Leslie is quick to clarify that it was never her idea! "That was Judd tricking me into using them," she explains. "That's not something I wanted to do." Fortunately Maude and Iris are no worse for the wear! "They don't have any clue as to what's happening so they're very natural," Leslie says. "They were usually in eating scenes so we put food in front of them and rolled three cameras."
"Their friends can't see the movie, and they can't see the movie, so it's totally off their radar. It's like hanging out with mom and dad."
That Judd has been their only director is also a distinction worth making, Leslie feels. "If it had been with another director, it might have been awkward, but then I wouldn't have done it," she points out. "Besides, Maude's probably done with it now. I don't want her to be a child actor."
Funny People is in theaters now.
Source: OC Register
— Missy