Kate Garraway Welcomes Son William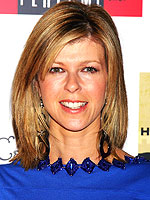 Chris Jackson/Getty
It's a boy for Kate Garraway and Derek Draper, who welcomed their second child on Tuesday, July 28th at the Imperial College NHS hospital in London. Son William 'Billy' Garraway Draper weighed in at 7 lbs., 12 oz and according to a statement released by the 42-year-old GMTV presenter and her husband, all is well!
"We are in seventh heaven and keep grinning from ear to ear. Billy is beautiful."
Unfortunately, 3-year-old big sister Darcey Mary has been unable to visit Billy in the hospital due to precautionary measures against the swine flu. "We can't wait to get home so that Darcey can meet her new little brother," says the couple. With the toddler imitating her mother's pregnancy throughout the last nine months, the introduction is sure to go off without a hitch!
The pregnancy was announced in January.
Source: BBC News
Thanks to CBB reader Mabyn.
— Anya