Giada De Laurentiis Celebrates Jade's First Steps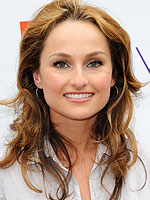 Michael Williams/Startraks
Some milestones are worth the wait. During a special screening of Julie & Julia on Monday in Los Angeles, Giada De Laurentiis revealed that daughter Jade Marie, 16 months, recently took her first steps! Instead of reacting with cheers, however, a very relieved Giada promptly burst into tears. "Why is it that we all do that?" she asks. "Do we really think that our kids are going to go to college and not be able to walk there?" Like most moms, however, Giada's normally good judgment was temporarily clouded with worry.
"I think it's that stress…I think that since she was about a year old the question is 'Does she walk?' And the answer has been no. So I think that fear sort of sets in that there's something wrong with her."
The biggest surprise of motherhood? Just how much Jade absorbs each and every day. "I never realized how much goes on in those little brains and how they really are sponges," Giada says. "Everything that you say to them comes back to you, even if it doesn't come back right away." Watching Jade's brain work is "unbelievable," she adds. "It's like a little steam engine…There's steam coming out of their ears. It's really cute."
One thing is for certain, with a celebrity chef for a mom that brain is being fueled by good food! Before leaving for the screening Giada, 38, whipped up a meal of ground beef with onions, a dash of garlic and fresh lemon juice over brown rice for baby girl. "She definitely eats like a queen," Giada concedes.
"I don't know what's going to happen when she gets older. I'm not sure that I'll have a daughter that only eats yellow food or something. She has a gourmet sort of palate."
Jade is Giada's daughter with husband Todd Thompson.
— Missy with reporting by Scott Huver