Jude Law Expecting Fourth Child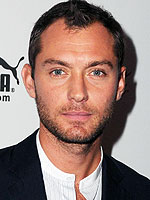 Landov
Update: The mother of the baby is Samantha Burke, an aspiring actress and model from Florida. Due October 6th with a girl she plans to name Sophia, Samantha released a statement through her lawyer on Thursday evening:
"Ms. Burke can confirm that she did in fact have a relationship with Mr. Law and that she has informed Mr. Law that she is expecting his child later this fall. Since informing Mr. Law of the pregnancy, he has been nothing but responsive and supportive of Ms. Burke and the pregnancy."
Posted July 29th: Jude Law will welcome his fourth child this fall, according to a statement released to Entertainment Weekly. A rep for the 36-year-old actor confirms that baby-on-the-way is the result of a relationship Jude had last year, and that he has since been "advised that he is to be the father." The statement adds,
"Mr. Law is no longer in a relationship with the individual concerned but he intends to be a fully supportive part of the child's life. This is an entirely private matter and no other statements will be made."
Jude is already dad to Rafferty, 12, Iris, 8 ½, and Rudy, 6 ½, with ex-wife Sadie Frost.
In October he is slated to begin a 12-week run on Broadway, starring in Hamlet.
Source: EW.com