Heidi Klum's Cheeto-Fueled Pregnancy Brain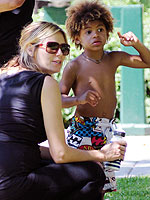 Flynet
Pregnancy brain is in full effect for Project Runway host Heidi Klum, and the evidence is everywhere! "You forget things and you always drop food," she explained during a Tuesday appearance on The Tonight Show with Conan O'Brien. "I'm always like…'What happened before? Did I drop it in my lap and [not] notice?'"
"Now I have, like, Cheeto dust all over me all the time. And then you have to lick the orange fingers."
Seal continues to earn high marks, described by Heidi as "the perfect dad" and "the perfect husband." The 36-year-old supermodel then let it slip that because of his tour the couple have been apart for five weeks, however — an admission which prompted host Conan O'Brien to quip, "Ah, perfect!" While their reunion will undoubtedly be sweet, Heidi says Seal might do a double-take when he finally lays eyes on her bump. "Especially at the end of your pregnancy, you get bigger," she notes.
"I was just thinking he hasn't seen me in five weeks…He's probably going to come home and be like, 'Oh, hi! Nice to meet you! Where is my wife?'"
Heidi and Seal's baby-on-the-way — a girl, due in mid-October — will join big siblings Leni, 5, Henry, 3 ½, and Johan, 2 ½, at home.
Source: The Tonight Show with Conan O'Brien
— Missy