Garcelle Beauvais-Nilon is Focused on Family for Now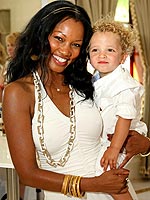 Kristian Dowling/Getty
She may have stepped away from her acting career indefinitely, but Garcelle Beauvais-Nilon is hardly taking a vacation! "I'm working on actually raising my children," the actress tells My Fox NY. The mother of 18-year-old Oliver and 21-month-old fraternal twins Jax Joseph and Jaid Thomas, Garcelle admits she is reluctant to leave her life as a stay-at-home mom behind in order to return to the small screen. "That's really my day job because it's constant," she says.
"My husband [Mike Nilon] and I really tried for a very long time to get pregnant so I don't want to phone it in. I want to be there every moment that I can be."
Fortunately, Garcelle has found an ideal job that allows her the perfect balance between raising a family and nurturing her career: She recently added jewelry designer to her résumé with the launch of Petit Bijou. "I wanted to do something to sort of satisfy that need while still being home with them," she explains. The result? A children's jewelry line, inspired by none other than celebrity babies Suri Cruise and Jessie and D'Lila Combs!
"Kids are so much more fashionable these days…[the necklaces and bracelets] exemplify their personalities [and] sort of express who they are and what they like."
Despite her joy with motherhood, the 42-year-old laughs that she is always in search of a quick break from her brood. "These days I really am looking for projects that will just get me out of the house, to be honest with you," she jokes. Although she delights in short trips to New York City where she enjoys the freedom of catching a quick play before returning home to her family, for now, Garcelle is content to devote herself to her boys. "If there's a great project that I really want to do, then that's when I'll go back to work," she says.
Source: My Fox NY
— Anya