Candace Cameron Bure Sees the World Through Young Eyes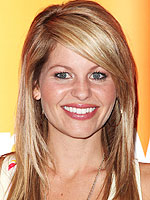 Goff/INF
Although she was married at 20 and a mom at 22, Candace Cameron Bure has no regrets. "I feel like I lived a whole lot of life before that," the 33-year-old former Full House star tells Cookie magazine. "Both my husband [former NHL player Valeri Bure] and I were ready to have a family right away." Mission accomplished! Together, the two are parents to Natasha Valerievna, turning 11 next month, Lev Valerievich, 9, and Maksim Valerievich, 7 ½. Candace says,
"I love being a young mom and taking my kids everywhere with me. I'm blessed to say my kids have traveled all over the world, and we've never brought someone along to help with them. It puts my obsession with etiquette books to good use! I also get to see the world through young eyes and do things I might not otherwise because of it."
Her relative youth also means that Candace has lots of energy, and from the sound of things she needs it! A typical Saturday for the family of five involves 9 a.m. hockey practice for the boys or a 40-minute family workout session. "They do everything my husband and I do," she notes. "Then it's all about the kids — tennis, swimming, lunch, more sports, and dinner. It's basically about how we can tire them out!"
While she clearly has things under control, Candace isn't immune to the occasional frazzled mom moment — and one stands out in particular. "Boarding an airplane on my own when I was 6 months pregnant, trying to keep track of my 1 ½-year-old and my 3-year-old, and carrying car seats, luggage, and pushing a stroller," she recalls. "No one offered to help, and the airline was no use. I was crying by the time I sat in my seat."
Click below to read about what Candace won't tolerate from the kids.
The couple "mostly agree" on how to raise Natasha, Lev and Maksim and Candace says she views her own parenting style as a mixture of both good and bad cop. "I love to have fun with my kids, but I don't put up with disobedience," she explains. When asked by the magazine what her own mom was most right about, Candace replies: "Showing an attitude of gratitude throughout your day that is reflected by the little things you do." She adds,
"My mom brought cookies to every taping of every show I did to say thank you for having us. It sometimes felt silly at the time, but now I understand. My mom always taught us to never take anything for granted even if you earned it, and to show your gratitude toward others for it. I'm trying to continue that legacy in my own life and teach my children."
Source: Cookie
— Missy