Teri Hatcher Encourages Emerson to be Independent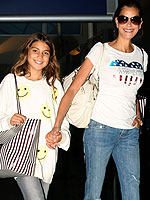 Bauer Griffin
For Desperate Housewives star Teri Hatcher, 44, the mark of a good parent is a child who can stand alone. "I believe in the philosophy that your best job as a parent is to create a child who has the wherewithal and the strength and the confidence to do without you really," she tells Celebrity Baby Blog. "That's what you want to bring into society, a motivated, passionate, compassionate individual."
Although it may "go against your…desire to smother them and keep them close," Teri says that in the end learning to keep a distance has been the key to the strong bond she shares with daughter Emerson Rose, 11 ½.
"I think everything about our adventures together and our relationship over the years has always been a good balance of, 'I'm here for you but you can do it yourself.'"
Case in point? Speaking from Comic-Con last week, Teri revealed that she could only stay in San Diego for a few hours, for Emerson was returning home from a two-week summer camp later that afternoon. "You write letters and I think in her letters she definitely expressed the right amount of, 'I'm doing my own thing but I miss home, too,' " Teri said. "That's a good blend, a reasonable blend. She's a good kid."
It's also important to lead by example in good times and in bad, Teri said before adding,
"[I use myself] as a role model when I make mistakes…How does a person pick themselves up from making mistakes or how does a person be courageous and adventurous and find joy so that they're somewhat of a role model? So we're in a good place, a very good place. I'm proud of all her advancements."
Emerson is Teri's daughter with ex-husband Jon Tenney.
— Missy with reporting by Scott Huver