Bid On Hart-Wilkerson's Hand-Me-Downs!
Call in the moving trucks! Actress Melissa Joan Hart and her husband Mark Wilkerson are packing up and heading to the east coast, where they plan to settle down and raise Mason Walter, 3 ½, and Braydon 'Brady' Hart, 16 ½ months. With the big moving date drawing near, Melissa is hoping to unload some of the family's belongings and has turned to handmedowns.com for help!
Melissa is no stranger to hand-me-downs; she received many of Mason's toys from a friend of hers, only to pass them on to another friend, before getting them back for Brady! This time, however, the mother of two is hoping her donations will benefit Friends of the Family in Van Nuys, a charity that is dedicated to helping people better their lives. "Friends of the Family is a truly exceptional organization," says Melissa. "They help abused spouses get free of the abuser. They help children that are shy find their voices. They help teen parents stay in school, find jobs, and learn how to be good parents."
The donated duds include Mason and Brady's moses basket, Melissa's moses basket from when she was a baby, the complete Orbit stroller system, Mason's Radio Flyer Rocking Horse, and a plethora of the boys' stuffed animals. Of the items to be auctioned off, Melissa can't help but rave about her go-to baby stroller. "The Orbit system is incredible. It's not only sleek looking, but it is the most functional system out there," she gushes.
While each item is sure to have some sentimental value to the family of four, Melissa is determined that others benefit from her good fortune.
"My boys are very blessed and spoiled and I thought it was time to pass [their toys] on."
The auction began yesterday and will run until Wednesday, August 5th. Head over to handmedowns.com to place your bid!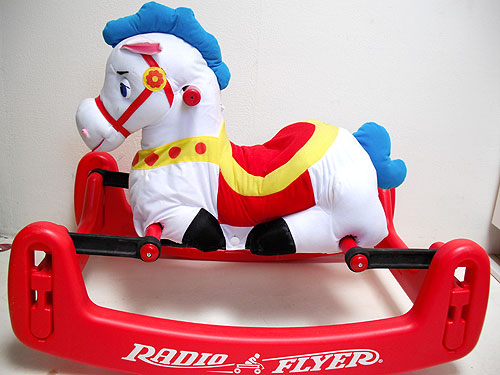 Mason's Radio Flyer Rocking Horse