Josh Holloway on Baby Smiles: 'It Just Makes My Heart Explode'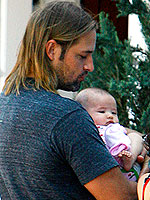 Limelight
In his first public comments on fatherhood since welcoming daughter Java Kumala, 3 ½ months, Lost star Josh Holloway admitted that he's hesitant to reveal too much. When asked at last week's Comic-Con in San Diego about baby girl's latest milestones, the 40-year-old actor told Celebrity Baby Blog, "I don't want to talk too much about her," before adding with a laugh, "She's got them though…all sorts!"
It's safe to say that smiling is definitely on that list, however!  The proud papa couldn't help but rave about his favorite moment of the day with Java.
"It's just those smiles every morning…When I first get to see the little bean smile. I'm like, 'Oh my God.' It just makes my heart explode."
Noting that life with baby is "so rich and so difficult and wonderful" all at once, Josh says that having a baby has put his life in proper perspective. "I don't care how everything else goes now as long as I'm a good father," he adds. "That's the journey, as everyone knows who has children."
"That's a journey, but we're solid and we're good and we love it."
Java is Josh's first child with wife Yessica, whom he married in 2004.
— Missy with reporting by Scott Huver