Ellen Pompeo Bumps It Up in Black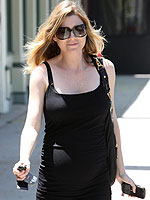 Stefan/INF
With the slightest of smiles playing on her lips, Ellen Pompeo made her way to Juvenile Shop on Ventura Blvd in Los Angeles on Thursday, where she met up with fellow mom-to-be Nicole Richie.
Ellen, 39, looked at a number of different baby items — a few pointed out to her by Nicole — and left with an armful of brochures to aid in her decision making.
The Grey's Anatomy star and her husband Chris Ivery expect their first child this fall.
See Ellen in our Who's Due Next gallery!