David Boreanaz and Wife Expecting a Daughter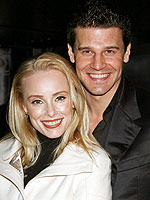 Baxter/ABACA
Bones star David Boreanaz was unable to make the trip to Comic-Con last week, but he had a very, very good reason for staying home. The 40-year-old actor — in a taped message to fans — revealed that the baby he expects with wife Jaime Bergman is soon to arrive, and the couple of seven years are in the pink!
"I'm a little bit stuck in Los Angeles due to the fact that my wife is on her 34th week [of pregnancy with] our second child. And I'd like you to know that it's going to be a girl."
Those were the only details David was willing to divulge, however. "Don't ask me the name because I'm not going to give out any of that personal information," he added.
Baby girl is due in early September and will join big brother Jaden Rayne, 7, at home.
Source: YouTube
Thanks to CBB readers Courtney and Belinda.