Dennis Quaid Switches Up His Defense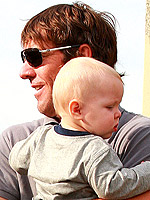 Flynet
Fatherhood the second (and third!) time around has provided Dennis Quaid with a different perspective on parenting; while raising multiples has also presented an additional set of challenges.
Speaking with USA Weekend, the 55-year-old actor notes that the age gap between son Jack Henry, 17, and twins Thomas Boone and Zoe Grace, 20 months, gave him plenty of time to accept all the life changes that a new baby can bring. "You don't freak out at every sniffle and every trip and fall," he explains. "It's not such a shock, changing diapers and getting up in the night." At the same time, Dennis admits "it's harder because there's two of them."
"One's going one way, and the other's going the other. You go from man-to-man to zone defense."
The twins are healthy and recovered from their rocky start in life, and Dennis — who spent spring break with Jack, looking at colleges — says that some stereotypes have held true. "She's very much a girlie-girl, and he's a linebacker," he shares.
Dennis' next project — G.I. Joe: The Rise of Cobra — hits theaters August 7th. Boone and Zoe are his children with wife Kimberly; Jack is his son with ex-wife Meg Ryan.
Source: USA Weekend