Jason Michael Carroll Cherishes Time With His Kids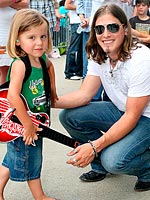 Frederick Breedon/Getty
On the road, singer Jason Michael Carroll is well-known for his sudden success in the world of country music with his debut album boasting three Top 40 hits on the Billboard chart. What awaits him at home, however, is a different vibe all together. The proud papa of Jason 'J.W.' Weldon, Gavin Michael, Savanna Nicole and Stori Paige tells The Boot that his fast rise to fame still does not compare to the accolades he earns as a father.
"When I take my kids to school and walk in the doors some kids yell, 'Hey Jason Michael Carroll,' but then the best recognition is when someone will walk up and say, 'Hey, Gavin's dad' or 'Hey, Savanna's dad' or 'Hey, Stori's dad.'"
With his brood still relatively young, the country crooner is happy to take on the role of the doting dad. According to Jason, these days surely won't last! "I mean, it's just one of the coolest things ever because right now, my kids think it's cool," he says of taking his children to school. "But in a few years, they're gonna be like, 'Dad, can you wait in the car?'" Thrilled to take part in the kids' dad-to-day routines, he laughs that for now he is simply "enjoying the fact that they like me being around!"
Jason's son J.W., 3 ½, is his only child with wife Wendy, while Gavin, 8 ½, Savanna, 7 ½, and Stori, 5, are his children from a previous relationship.
Source: The Boot
Thanks to CBB reader Dara.
— Anya