Annie Duke on Divorce: Don't Make Kids Pay for Parents' Mistakes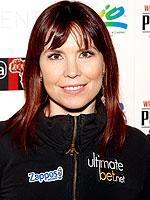 Ethan Miller/Getty
Celebrity Apprentice star Annie Duke is a single mom by label only. The 43-year-old is quick to point out to MomLogic that between her live-in boyfriend of four years Joe Reitman, an "extremely involved" ex-husband in Ben Duke and a nanny, she's hardly going it alone.
"I have a relatively easy single parent life — we do support each other so much in our parenting and really do co-parent in every sense of the word," she says of Ben. "When people ask me to speak about being a single mother, I often say I couldn't even begin to speak upon those issues!" Emerging from their divorce unscathed is a source of pride for the one-time couple, who together are parents to Maud, 14, Leo, 11,  Lucy, 9, and Nell, 7. Annie adds,
"I wish that every divorced couple would remember this: You chose your partner, so take responsibility for that decision. Your kids did not choose their parents. Whatever wrongs your ex did to you (unless they were abusive) … don't make your kids suffer from those mistakes."
Annie singles out her tendency to be "overly focused" on the kids as the reason behind their split. "I think that's what happens a lot to moms," she muses. "Maybe I wasn't as nurturing of the relationship." When she found herself staying at work longer and longer to "avoid the problems at home," Annie realized that action needed to be taken.  "I wouldn't have gotten divorced if I didn't think what was going on in the marriage was affecting my kids negatively," she explains. "When I realized that it started to affect the way I parent, that's when it was over." The kids are "so much happier" as a result, Annie says.
Despite her foray into reality television and her successful career as a professional poker player, Annie says her public persona does not extend to Maud, Leo, Lucy and Nell. "I wouldn't put my children on a reality show in the first place," she insists. "If you look on my twitter feed and my website, you will see zero pictures of my children. On my blog, you will see very few mentions of my children. Yesterday, I deleted 1,000 friend requests on Facebook because there are pictures of my kids on there, and I will not accept you if I don't know you." While a Jon & Kate Plus 8-type show has often been pitched to Annie, she says she has always consistently declined. "With cameras on 24/7, you lose that private part of you," she notes. "I don't see how a family is supposed to survive that."
"We were raising four kids and we lost our marriage. You have to really maintain focus or that gets lost. I wasn't putting focus on having private time with my spouse. I think it's already hard if you have eight children to NOT lose that connection … and then you put it on TV?…My recommendation would be not to put your children on camera, period."
Click below to ready about how poker makes Annie a better parent.
Her skills as a poker player have come in handy on more than one occasion with the kids. "Most of the things you're doing at a poker table involve looking for signs that your opponents are uncomfortable," she points out. "You get good at doing that in a very quick timetable. So my kids have a very difficult time lying to me." When they're caught, the consequences are swift! "They get a much bigger punishment for lying than doing the thing itself," she adds. There are other benefits from playing the game, however, like patience and acceptance.
"I can't control the cards that I'm dealt, but I can control how I play the hand. That really helps you be a better mom. As mothers, we spend a lot of time focusing on things we can't control about our children, so poker helps me do that less."
Annie says she learned a long time ago that each of her four children are unique. "My job is to make them be polite and respectful within their personality type," she says. To that end, Annie reveals that one of her daughters is "twice exceptional" — profoundly gifted with executive functioning issues, struggling with things like impulse control and an ability to organize information.  She had been doing well in school up until the sixth grade, Annie says, but that is when things started "falling apart."
"Once she was diagnosed, the pieces of the puzzle started coming together. Her ADHD is mild enough that we don't have to medicate. But we have to be careful not to escalate arguments with her. Her brain has to get back to thinking with her frontal lobe."
Now enrolled in a school for twice exceptional kids, Annie's daughter is thriving. "This is her right path. She's getting straight A's, and has become very socially successful," Annie says. "It's like a total transformation."
"When you have a child that's unhappy, it creates some anger and you end up butting heads all the time. I was spending a lot of time walking away from arguments so she could calm down. Now we are getting along better than ever."
Source: MomLogic
— Missy