The Name Game: Gender Benders
Once upon a time, naming a little girl 'Cameron' was considered radical…but Cameron Diaz arrived on the scene and forever changed the perception of a name that was historically given to boys. Other unisex names, like Taylor and Morgan, soon followed suit. But celebrity parents are known for pushing the envelope, and when it comes to selecting gender bending names they often lead the charge. Linda Rosenkrantz, co-founder of nameberry.com, notes that names like James and Judah had previously been considered 100% strictly male — until they were selected by Brendan Fehr and Ziggy Marley, respectively, for their baby girls! What's the appeal? Linda explains,
"Boys names on girls bestow on their bearers a certain tomboyish, cutting edge image, an attention-catching rebel sensibility —  and possibly an attempt to level the playing field."
With that said, there are obvious downsides. Linda cites the possibility for "all kinds of mix-ups and confounded expectations," including even correspondence confusion. On paper — at least — most people would expect James to be a "Mr.," and not a "Ms," she notes. "There has also been some negative reaction from parents of boys with these names, fearing that if too many other girls are named, say, Finley, it might rob the name of some of its good old Celtic masculine punch, and eventually, as in the cases of Ashley and Addison, come to be considered a girls' name," Linda adds.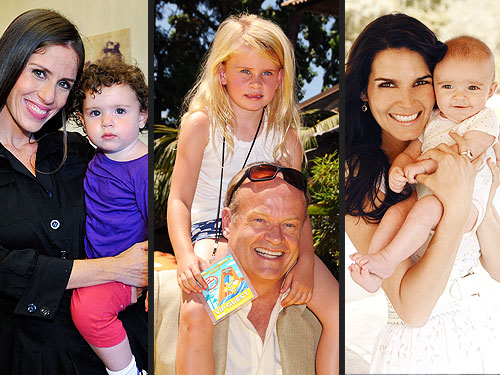 Soleil Moon Frye and Jagger Goldberg, Kelsey and Mason Grammer, Angie Harmon and Emery Sehorn — Charley Gallay/WireImage; Byron Purvis/AdMedia; Andrew Macpherson for PEOPLE for use on CBB
Click below to see which celebrity couple Linda calls 'serial boundary breakers.'
So who are the biggest celebrity baby gender benders? Linda cites Diane Keaton (with daughter Dexter), Michelle Branch (with daughter Owen) and Kelsey Grammer (with daughters Mason and Spencer). Angie Harmon and Jason Sehorn are "serial boundary breakers" with daughters Avery, Finley and Emery — but Linda points out that names ending in an 'ee' sound do have a feminine feel, as do the soft endings of a Judah or a Noah, the latter of which was selected by Billy Ray Cyrus for his youngest daughter.
There are other ways to up the 'girl' quotient! Linda adds,
"Often these names are softened with a super-feminine middle name, as in [Melissa Etheridge's daughter] Johnnie Rose and [Rebecca Romijn's daughter] Charlie Tamara Tulip.  On the other hand, Soleil Moon Frye gave her daughter a double dose of boys' names — Jagger Joseph."
In addition to her work with nameberry.com, Linda has co-authored ten baby-naming books with Pamela Redmond Satran. Their newest title, Beyond Ava & Aiden, is available now.
— Missy
Which gender-bending names do you like best? Least? Would you use one with your own child?