Kendra Wilkinson Heading East for Baby and Husband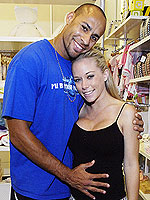 Amy Graves/WireImage
So long Hollywood, hello Philadelphia! Kendra Wilkinson reveals in a new interview with E! that she'll soon be trading in the glitz and glamour of Southern California for a lower-key life in the City of Brotherly Love.
"I need to get away and hibernate for a little and be a protective mama," the reality star — currently expecting her first child with husband (and Philadelphia Eagle!) Hank Baskett — explained. "I like the energy there. They leave me alone. I feel way more private [in Philly] than here, and that's what I need."
Although the couple eventually intend to settle on the West Coast, Kendra said she's looking forward to delivering her winter baby in snowy surroundings. She adds,
"That's where a real Christmas is. I want to have a real Christmas baby in a real Christmas place."
Baby-to-be is "a kicker," Kendra says, and the couple are anxious to learn whether her intuition is correct at their anatomy ultrasound in the coming weeks. For now, Kendra is focusing on having a happy and healthy pregnancy; To that end, she's not worrying about the baby weight — which she predicts "will go away very fast." Sharing that she is craving Japanese cuisine like teriyaki chicken, rice, soy sauce and ginger salad, she adds,
"If I gain weight and that's what it takes to make my baby healthy, that's what has to happen."
The fears she earlier expressed about delivering her baby-on-the-way have eased, with Kendra noting that "it's only a little bit of pain for a lifetime of happiness." That's not all that's changed, however! Kendra says that the stripper pole mounted in her home will soon be making an exit. "Not forever, but for a while," she explained with a laugh. "It will be hung up in the closet."
Source: E!
— Missy