Kelis: Knight is 'Kinda Perfect'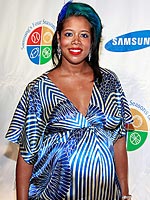 Charles Eshelman/FilmMagic
Expectant moms are often told that the pain of labor and delivery immediately subsides once a newborn baby is placed in your arms, but Kelis isn't buying it! Tweeting on Twitter early Thursday morning, the 29-year-old R&B songstress — who welcomed son Knight just hours before — shares,
"I was in labor for 3 of the longest most painful days of my life. I don't understand when women say they don't remember giving birth. I will remember for the rest of my life. He's kinda perfect [by the way] :)"
Calling her son "7.8 pounds of the greatest stuff on earth," Kelis is clearly smitten! New motherhood is "so amazing," she writes before adding,
"I'm a a loss for words."
Almost! Just a few hours later, a jubilant Kelis updated her fans yet again with the happy news that both mom and baby were heading home: "Me [and] Knight are takin' our first car ride today! Woohoo!"
Knight is the first child for Kelis and the second for her estranged husband Nas, who is already dad to 15-year-old Destiny, from a previous relationship.
Source: Kelis' Twitter
— Missy