Josie Bissett Stresses Respect, Love Between Siblings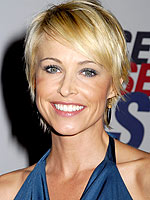 Barry King/WireImage
While some parents view sibling rivalry as a fact of life, Josie Bissett isn't among them. "It drives me absolutely crazy when my kids fight, the sound of them fighting and not getting along," she tells Examiner. "I don't go for it at all." Instead, the 38-year-old actress tells Mason Tru, 10, and Maya Rose, 7, that they "need to treat each other with respect and love each other," and Josie employs a zero tolerance policy on disrespect. "It doesn't mean it doesn't happen, but I just don't believe in it," she says before adding:
"My son says, 'Hey, Mom, all siblings fight.' And I say, 'Why do they have to?' I challenge him on it. Just because you see [other people] fighting doesn't mean you have to act that way. They're starting to get it."
Although she's found success, Josie says she is hesitant to encourage Mason and Maya to pursue careers in the entertainment industry. She'll keep her opinions to herself, however, because she believes that "the most important thing in life is to find what we all love to do."
"If my kids decide to be actors and really, truly love it and are passionate about it, then I would definitely want to help them along their way, but it's a tough business. I think what I want for them most is stability and happiness — and however they decide to find that is up to them, and my job is to be there and guide them the best I can."
An accomplished author, Josie says that on the horizon is a book by children, for children, dealing with divorce. "I want it to be from the child's perspective," she explains. "I want to interview children who have come from divorced families and adults who come from divorced families." Noting that divorce "is not a fun thing to go through," Josie says that it was Mason and Maya who helped her most when she and ex-husband Rob Estes separated. She adds,
"I think that every decision I made came from what's best for the kids. If both parents have the children's best interests in mind, it's going to go OK. The second that the parents don't do that, it gets ugly."
Catch Josie on the CW this fall as she reprises her character Jane Andrews-Mancini on the new Melrose Place.
Source: Examiner
— Missy