Heidi Klum's Humpty Dumpty Theory, Explained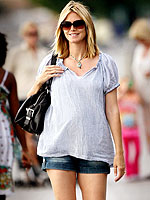 Tom Meinelt/Splash News Online
In a playful appearance on Live with Regis and Kelly, supermodel Heidi Klum joked that her heritage has a lot to do with her ever-expanding brood. Of husband Seal she quipped, "I never let him rest," before adding, "I'm very German…That's it." The couple are currently expecting their fourth child, and second daughter; Heidi revealed that if big sister Leni, 5, gets her way baby girl will be named Susie, while big brother Henry, 3 ½, is partial to the name Vanessa.
Having two boys and two girls "is perfect," according to Heidi, who proceeded to share Seal's theory on how each of their children came to be. Hedging at first — telling co-host Kelly Ripa that it was an "off-camera conversation" — Heidi eventually gave in!
"My husband has a theory because they do say that the girl is a little slow in swimming … But they don't die as fast; The boys are very, very fast but if they're not there at the right time they might die…When we kind of looked back at the calendar, after we found out, we looked back and he was like, 'There is something definitely to this.'"
When co-host Regis Philbin struggled to connect the dots, Heidi did so for him! "There's no headstands or any strange things happening," she said before clarifying,
"When the woman ovulates and you do the humpty dumpty on the day you're ovulating, then you are more likely to have a boy on the day of the humpty dumpty. If you do the humpty dumpty on the days you're not ovulating, you're more likely to have a girl."
One thing is for certain, Heidi will be paying much closer attention to when she does the 'humpty dumpty' going forward! "The shop will be closed," she says of having more kids. "Definitely!"
In addition to Leni and Henry, Seal and Heidi are parents to 2 ½-year-old Johan. Baby-on-the-way is due in October.
Source: Live with Regis and Kelly
— Missy