Celebrity Moms Offer Nursing Advice, Encouragement
For some breastfeeding comes easily to both mother and baby, but for others the relationship takes work — a lot of work! The same holds true for celebrity moms, and in the August/September issue of Fit Pregnancy some familiar CBB faces offer advice and encouragement to those who are struggling to nurse.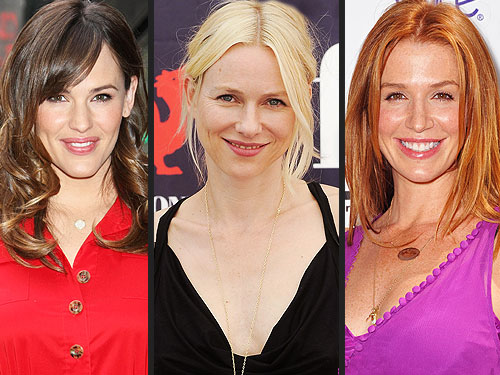 Black/Startraks; Stefania D'Alessandro/WireImage; Jordan Strauss/WireImage
"The biggest challenge of breastfeeding is getting over the hump of the first month," Jennifer Garner says. "Just try and hang in there for six weeks and then you will hopefully realize you are over the worst of it and can really enjoy it." If things still aren't going well the 37-year-old actress — mom to Violet Anne, 3 ½, and Seraphina Rose, 6 ½ months — says to lay off the guilt, adding,
"Don't judge yourself. If you can't do it, there is no judgment."
Without a Trace star Poppy Montgomery, mom to 19-month-old Jackson Phillip Deveraux, advises new moms to set "realistic goals." Instead of committing to nursing for a "huge chunk of time," Poppy says to focus on three month intervals. "Then you can reevaluate and decide whether to continue," she says.
It was when Alexander 'Sasha' Pete, now 2, was three months old that his mom Naomi Watts returned to work — often a make-or-break moment in the breastfeeding relationship. Determined to succeed, Naomi recalls that while filming The International she would nurse during the day and send pumped milk to Sasha at his hotel while on location at night. She admits,
"I didn't get proper rest, but that's the struggle of balancing career and family."
In addition to Sasha, Naomi is mom to son Samuel Kai, 7 months, with partner Liev Schreiber; Violet and Seraphina are Jennifer's children with husband Ben Affleck; Jackson is Poppy's son with partner Adam Kaufman
Source: Fit Pregnancy, August/September issue
What's your best advice for nursing moms who may be struggling?