Sandra Bullock Prefers the Company of Kids to Actors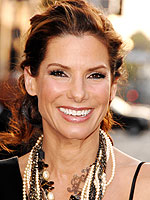 Steve Granitz/WireImage
With a film career that took off in the 90s, Sandra Bullock has found herself rubbing elbows with some of Hollywood's hottest stars over the years. However, when she became a stepmother to three kids after marrying Jesse James, it didn't take long for her to realize she prefers the company of children to actors! "Was I terrified? Not at all," she asks of becoming a mother.
"Actors are the biggest babies on the planet, and I would rather be in a kindergarten than a room full of actors."
A self-proclaimed "evil stepmonster" to Chandler, 15, Jesse Jr., 12, and Sunny, 5, Sandra has happily stepped up to the plate in raising the brood. Fortunately, her place in the family has been an easy transition for all, she shares, due mostly to her relationship with the childrens' mothers. "I presented myself to Jesse's first ex-wife as a human being first and foremost," she tells the Daily Mail. "I didn't meet the children until I became a trusted person in the eyes of a woman I respected — that was important."
Unwavering in her stance that biological children may simply not be a part of her plan, the actress reveals that while she may have once contemplated adoption as a single woman, the path she has chosen has been equally — if not more — rewarding. "I met Jesse and it all fell into place. Suddenly the answer presented itself in a much better package than I'd ever planned," she explains.
That said, the 44-year-old does not pretend to have all the answers, particularly when it comes to disciplining the children. "The hard thing is not to laugh when you're disciplining them — and if you do the same thing they did, then you have to stand in the corner too so they know it's fair," she says.
"Seriously, try it for five minutes. It's claustrophobic — you can't watch TV, can't make any phone calls — the most boring thing ever."
Source: Daily Mail
— Anya