Kelly Ripa Resorts to Baked Goods as Bribery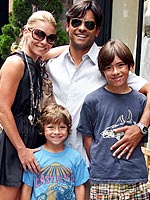 Anthony Dixon/WENN
When in doubt, resort to bribery! At least for Kelly Ripa, who's not afraid to pull out all the stops in parenting when Sunday's weekly church service rolls around. "The kids know if they're good at church, they can go to the bakery after and pick out whatever they want, so they have incentive to not goof around in church," she explained to OK! during the Electrolux Virtual Lemonade Stand.
"It's just an hour a week that I ask them to be reverent — that's it."
Despite her creative solutions to every day obstacles that arise in parenthood, the co-host of Live With Regis and Kelly admits she is not immune from losing her patience. Case in point? Battling traffic each week during the family's weekend beach getaways to their Hamptons home! "I try not to get angry that often, but it probably has something to do with traffic," she says. "Driving out to Long Island, just in general, every weekend and sitting in traffic."
Fortunately for the kids — Michael Joseph, 12, Lola Grace, 8, and Joaquin Antonio, 6 ½ — time is passed doting over their dog Chewie!
"She's a spoiled lady. She's got three kids that scratch her and play with her all day long."
For Kelly, when the going gets tough, her husband of thirteen years has become the yin to her yang. "He's incredibly patient and responsible," she gushes of Mark Consuelos. "He is consistent. He is stern, but loving. He's involved." According to Kelly, he is also a great partner to watch Anderson Cooper 360 with each night! "We know Anderson, we love Anderson, he's very knowledgeable and we just like to see his thoughts and feelings on the world. It's kind of what we do."
In addition to the nightly news, Kelly also manages to relax with her daily jogs and her love of baking. "I like to bake cupcakes," she shares. "I like to do projects with the kids. Stuff they can do too." That said, nothing brings her as much comfort as a fresh load of laundry!
"I like to do laundry a lot. More than I should, probably. It's an obsession at this point."
Source: OK!
— Anya