Keith Urban Schedules Tour Around Family Time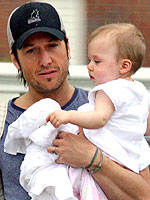 Fame
Life on the road can be hard for musicians, but even more so when they have little ones at home. As dad to daughter Sunday Rose, 1, country star Keith Urban tackled the unique task of planning his Escape Together tour around his family. By only being out on the road for "three or four days at a time," Keith is able to spend ample time with his baby girl and wife, actress Nicole Kidman. Although it meant expanding the tour to seven months long to "allow for that sort of schedule," the 41-year-old says that it's been worth it.
"There's a certain balance that I've got to have in my life," Keith explains. "My family is extremely important to me. Playing live is important to me too. So how do I balance the two? We structured the tour so I fly to the first date, then bus it to the next couple shows."
The audience gets a better show as well, he notes, because the band doesn't get burned out. "We're not just going through the motions. Come the first show of each week, I'm chomping at the bit to play. Then we're home for three or four days. There's never a show when it's like the 14th show in a row without being home."
After battling alcoholism with a trip to rehab shortly after his marriage to Nicole, Keith says his current album Defying Gravity reflects his new outlook — and the joy fatherhood has brought him.
"I think all of these things — marriage, sobriety, fatherhood certainly — in the last couple of years, those have been wonderful turns in my life. They've just been wonderful."
Source: Fresno Bee
— Angela