Jessica Alba: Life as a Mom Moves 'So Fast'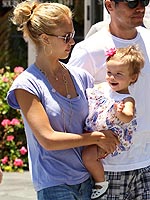 GSI Media
Jessica Alba's life has been marked by change since welcoming daughter Honor Marie, 13 months, and now the changes are coming more quickly than ever. "Life moves so fast as a new mom," she notes in the August/September issue of Fit Pregnancy magazine. "Sometimes I wish time would slow down."
Not to mention Honor, who is "so mobile" now Jessica has had to become a "constant watchdog." Not that she'd change a thing! Jessica, 28, adds,
"Every milestone is memorable, from the numerous wardrobe changes in her first five months due to her explosive diarrhea to the first time she said, 'Mama.'"
If she has any advice for other first-time moms, it would be to trust your instincts — and don't overstep. "What works for you may not work for others and vice versa," she elaborates. "I have also found that it's more useful to stop and listen than to try and always have the answers."
Honor is Jessica's daughter with husband Cash Warren.
Source: Fit Pregnancy, August/September issue
— Missy