Chris Daughtry Reconnects With His Rural Roots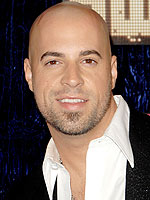 Jon Kopaloff/FilmMagic
Perspectives often change as children become adults, and nothing can change a perspective faster than the arrival of a child! Chris Daughtry, 29, recalls growing up in rural North Carolina and promising himself that one day he'd live in the big city, but the married father of two has since had a change of heart.
"My wife [Deanna] and I recently bought some land in North Carolina and are planning on living that kind of life," he tells the California Chronicle. "We're gonna grow our own stuff and even build a chicken coop for our own eggs."
There will still be electricity, however! Chris plans to put it to good use alongside Hannah, 11, and Griffin, 9, who give him "an excuse to play video games." They also give the couple of eight years plenty of opportunities to visit the local movie theater, where they recently saw Up. "I ended up bawlin' like a baby," Chris admits.
"You see a couple in love, growing up, planning their lives together — and then the wife dies. It was very moving. Then, we look over and our kids are laughing at [my wife and me], like, 'What's wrong with them?'"
Chris' new album with Daughtry, Leave This Town, is available now.
Source: California Chronicle