Cat Cora Welcomes Son Nash Lemuel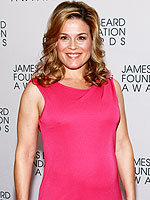 Mike Coppola/FilmMagic
A fish out of water no more, it's another boy for Iron Chef Cat Cora and wife Jennifer! The couple welcomed son Nash Lemuel Cora at 4:41 p.m. on Sunday, July 19th according to her rep. Baby boy weighed in at 7 lbs., 5 oz, and measured 20 inches in length.
Nash Lemuel's name is inspirational for Cat, 42, and Jennifer on many levels; Meaning "the adventurer," the couple thought it would be an appropriate moniker given the miles their fourth son logged in utero!
In addition, they note that Nash will share a name with the poet Ogden Nash as well as scientist John Forbes Nash, whose life is depicted in the film A Beautiful Mind. They go on to note that Lemuel — Hebrew for 'Gift from God' — is Cat's maternal grandfather's name.
The pregnancy was announced in March. Nash joins big brothers Thatcher Julius, 3 months, Caje, 2, and Zoran, 5, at home.
Source: OK!