Aoki Simmons' Red Carpet Moment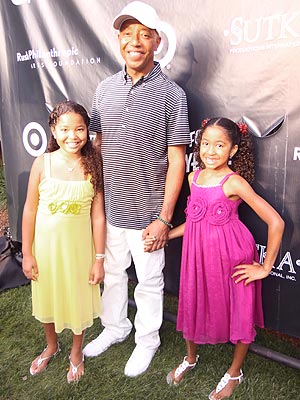 Johnny Nunez courtesy Rush Philanthropic
For Kimora Lee and Russell Simmons' daughter Aoki, the A-list apple doesn't fall far from the tree.
At an event held at her father's East Hampton home on July 18, Aoki, 6 ½, and her sister Ming, 9 ½, worked the red carpet, posing for photographers.
But when a friend of Aoki threw a lollipop her way, the celeb-in-training caught it, shot the little boy a fierce look and said, "Don't throw something at me when I am on the red carpet."
And with a toss of her hair, she faced photographers again with a big smile.
But a moment later — channeling her famous mother — she turned back to her friend and said, "but thanks, I love it!"
In addition to doing her mom proud at the event (the Art For Life tenth anniversary party, which raised $1 million for Rush Philanthropic) Aoki got to rub elbows with Cheetah Girl Adrienne Bailon.
And while she may act like a diva on the red carpet, Aoki and her sister are far from jaded: Both were thrilled to meet the teen star.
— Rennie Dyball