Steal That Style: Zev's Shark Attack Swimsuit
We've seen the girls, now let's hear it for the boys…and their animals! This summer season, when it comes time to purchase baby boy's swimsuit, the look has gone to the dogs (and their friends!) quite literally. Across the board, designer's swimwear collections for boys showcase adorable yet trendy animal prints, with a clear focus on ocean life.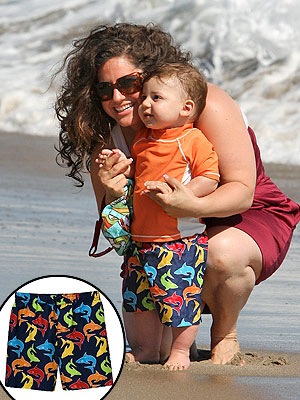 shaRRp/Splash News Online
Attending a birthday party in Malibu, Calif. last week, Zev Isaac, who turns 1 today, was all smiles as he tested the waters with his Broadway star mom, Marissa Jaret Winokur! The pair made quite the splash of color — while Marissa opted for a deep red cover-up, Zev went loud and bold with his orange rashguard top paired with his Circo Shark Attack Swim Shorts in Navy ($6) from Target.
As we mentioned last week, purchasing a swimsuit so late in the season can either be a great way to plan for the future while saving some cash or a complete disaster!
For parents who are able to think ahead to next year, now is the time to take advantage of some great deals as the summer winds down. That said, waiting to buy a child's bathing suit the week before the family heads out on an August vacation will undoubtedly leave the buyer short on options.
Steal That Style: Zev's Shark Attack Swimsuit with the animal-print trunks below!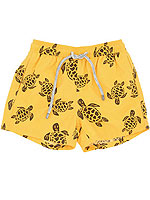 Vilebrequin Swim Trunks
Breaking Bank: The price tag may be considerably high for most parents, but we can't get over Vilebrequin Swim Trunks in Orange Turtle ($90)! We are loving the simple, yet stylish design of the swimsuit, which includes velcro back pockets, an elastic waistband, and easy air evacuation. A great added bonus, the swim trunks include a cloth pouch to store baby boy's wet suit once he is exhausted from his water play!
Described as "so Palm Beach fabulous," we couldn't agree more when it comes to Kiwi Tropical Parrot Swim Trunks ($80)! The bright, bold flowers paired with the tropical parrots screams beach fun, while the elastic waistband, side pockets, and inner lining keep the parents happy. Although the price is steep, the suit would be a great splurge for a special family vacation!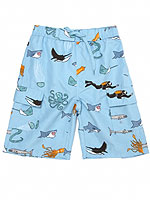 Hatley's Shark Beach Swim Trunks
Not Pinching Pennies: Nothing says the ocean like a swimsuit design of scuba divers and sharks! We are loving Hatley's Shark Beach Swim Trunks ($36), swim trunks that include the standard elastic waistband, but boast side velcro-close cargo pockets and a faux-fly complete with a tie string.
Look close for the penguins! In search of a unique swimsuit for baby boy? Original Penguin All Over Print Board Shorts ($38) fits the bill and then some! We are loving that the design — a dark navy background with silver surfing penguins — steers clear from any traditional sense of baby clothes without compromising the needs of a toddler.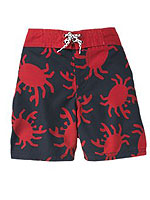 Gymboree's Crab Swim Trunks
Bargain Buying: Feeling a bit crabby? Take a look at Gymboree's Crab Swim Trunks ($12)! Marked down from its original $20 price, this swimsuit is a steal: Consider the elastic waistband, the lace-up tie waist, and for baby boys up to 3T, the added bonus feature of an attached diaper cover.
Also be sure to check out both Old Navy's Shark Graphic Swim Trunks ($6), which offer a lace-up waist with an elastic band in the back, built-in mesh briefs, and mini back pockets, and Janie and Jack's Whale Swim Trunks ($13).
— Anya