Peter Facinelli: 'I Was Destined To Be Surrounded By Women'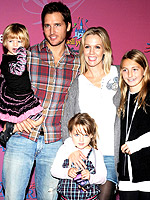 Axelle Woussen/Bauer Griffin
Age is just a number for Peter Facinelli — at least when it comes to the 35-year-old's spirit! In a new interview with Babble, the actor admits he is feeling his years, but with three young daughters — Luca Bella, 12, Lola Ray, 6 ½, and Fiona Eve, 2 ½ — he manages to keep it all in check. "You've got to keep a young spirit every day when you have three kids because having kids makes you go through your youth again, in a way," he says. For the doting dad, lately that means brushing up on his soccer skills.
"My daughter is playing soccer, and to be her coach I had to learn soccer. I read books on it, did clinics."
Married to actress Jennie Garth and having a gaggle of girls hasn't been a problem in the least for the Twilight star. While his wife is eager to try for a boy, the father of three is happy to accept the cards he has been dealt. "I grew up with three sisters — I was destined to be surrounded by women, I think," he jokes. "I'm completely happy with a family of five, the Facinelli five."
Either way, there is little doubt that adding a fourth child to the mix would bring the family's noise level to a whole new high. Fortunately, these days, come dinner time, all is kept under control due in part to Peter's new creation: the talking star. "Dinnertime is a really important time for our family. And we do have loud conversations — we're always talking over each other," he explains. "So now I started this new thing: I got this little wooden star and I call it 'the talking star.'" The star is passed among the group of five, allowing each family member an opportunity to be a part of the conversation.
"It's funny, if you talk out of order now my two-year-old gets made, like, 'You don't have the talking star!'"
According to Peter, the family of five has also been known to host impromptu dance parties! A former contestant on Dancing With the Stars, Jennie has passed on her love of dancing to her daughters. "Sometimes we put on the radio and we all dance together in the living room," says Peter. "Can I dance like her partner [Derek Hough] on Dancing With the Stars? Maybe. I probably wouldn't look as good in the tight pants, though."
Click below to read how Peter and Jennie keep their girls down-to-earth — and how they monitor their daughters' TV viewing!

Raising his daughters amidst the glitz of Hollywood has not skewed Peter's parenting beliefs in the least; Instead of looking toward fellow actors for guidance, he relies on his own parents as inspiration. "It would be hard for me to look at a celebrity as a role model for parenting when I have them in my own backyard," he muses. Reluctant to label parenting in Hollywood any more difficult than the norm, Peter stands firm that each career path comes with its own set of obstacles. "What matters is if you make the occupation more important than the family," he says.
"If I were a stockbroker or a plumber, I'd try to keep it in balance so I spend the right amount of time with my family. Acting's the same."
On the other hand, Peter realizes his kids have been affected by their parents' star status. "Being a celebrity parent I definitely shelter my kids more than other parents do," he admits. "It's hard sometimes — you go to events and sometimes there are kids there and they're surrounded with glamour." Noting that there are certainly "perks to being an actor parent," the father-of-three reveals not much catches his girls off guard.
"My kids aren't starstruck."
For Luca, those perks included an inside glimpse into the world of Twilight. When she showed interest in the series — becoming an avid fan of the first two books — Peter eased up on his parenting rules and let her watch the rated PG-13 film. "When you think about a vampire movie closing the generation gap, that's pretty incredible," he notes, adding that the series has brought the family closer. That said, Peter monitors what the children watch on TV and is known to catch an episode or two — Dora and Blue's Clues with Fiona, The Suite Life of Zack & Cody with Lola, and Hannah Montana with Luca — with his girls!
"There's a lot of things they can watch like the Disney Channel. But I won't let my twelve-year-old watch MTV because there are some things on there that I think are not appropriate for her."
Source: Babble
— Anya