Brad Paisley's Sitter Services: The Grandparents!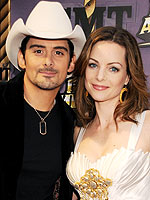 Jeff Kravitz/FilmMagic
Long before they discovered they were expecting their second child, Brad Paisley and his wife Kimberly could not ignore a vivid dream she had depicting a family complete with a son named Jasper. When the couple later confirmed baby-on-the-way was indeed another boy, the name choice was quite obvious. "We kept thinking about that…we toyed with that idea all the way until we were in the hospital," the country singer tells The Boot.
Once baby boy made his debut, the proud parents began testing the waters with their family, searching for a general consensus on their name choice. "We started running it up the flagpole, and in spite of what the flagpole thought, we did it!" he says of choosing the name Jasper Warren for their 3-month-old. Fortunately, the couple expected the criticism of their unconventional name choice; They were met with a similar opposition when they announced the name of their first born William Huckleberry, now 2.
"This time…it was like, 'Oh, Jasper? Okay, let me think about that.' Each set of parents had the same kind of reaction: We said it and they said, 'Well, what about…? Have you thought about the name…?' And they [suggested] another name, like it was up for discussion!"
Happily raising their two sons, both Brad and Kimberly intend to do just that: bring up the boys on their own with little to no outside help. Instead, the couple — who clarify they "don't have anyone on payroll" when it comes to sitter services — rely on the continued support from their close family and friends. "I'm lucky that my parents are in such good shape and they are only 60," Brad notes.
When the two recently needed a break, and decided a trip to see Up would do the trick, the country singer made one quick phone call and hours later Brad and Kimberly found themselves enjoying the film. "It's nice to do that and then come home and know that they are with their grandparents and they are having a better time than when we're here…and learning more probably!" he laughs.
Click below to read about Huck's developing verbal skills!

Full swing into toddlerhood, Huck continues to surprise his dad every day. Lately, for Brad, the shock has come in the form of Huck's advanced verbal skills, with his son keeping him constantly on his toes. "The other day, I was sitting there reading him a book and patting him on the back. He said, 'Hey, why are you burping me, daddy?'" he recalls. "He doesn't miss anything at all. It's unbelievable."
While his speech skills may be not be anything to scoff at, neither is his ability to maneuver the family bulldozer! Not unlike many little boys, Huck has taken a particular liking to all things mechanical and enjoys pushing "some rocks or dirt around" on the property.
"And by the way, he knows how to run it now because it's hand joy stick controlled. I'll have someone here and I'll say, 'Watch this — go forward!' And [Huck] pushes it forward and raises the bucket."
Ready to head out on tour, Brad finds comfort in knowing he is only an airplane or bus ride away from Kimberly and the boys. While he may be missing out on the day-to-day routine as he performs throughout the country, the doting dad keeps this philosophy in mind: work hard, play hard! "There's maybe three days away from my family and then I'm home," he says. "And while I am here, I'm completely home. I'm not working eight-hour days." With two rambunctious sons, Brad laughs that the perks of life on the road may be well worth the constant traveling!
"I think what I'm going to really love about touring is me waking up at 11:00 in the morning and calling [to] see how it's going."
Source: The Boot
— Anya