Mary-Louise Parker Always Knew She'd Adopt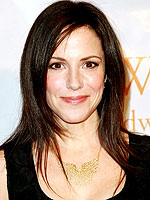 Neilson Barnard/Getty
Ever since she was a little girl, Mary-Louise Parker was certain of one thing: one day, when old enough, she would adopt.
"I would daydream about it all the time," the Emmy-nominated star of Weeds, now in its fifth season, told PEOPLE earlier this summer at a benefit for Worldwide Orphans Foundation hosted by La Perla in Beverly Hills. "I thought about the fact that there were children who didn't have anything, and I felt like I could help. It was something that weighed on me."
In August of 2007, Parker, already a single mom to William Atticus, her son with former boyfriend Billy Crudup, made her childhood dream a reality when she went to Africa with Worldwide Orphans and made Caroline Aberash, whom she calls Ash, part of her family.
"It was something I did for the world and for my son and then for me," Mary Louise, 44, said of adding a second child to her family. "And when I say the world, I also mean my daughter. Once I knew her, she became part of that. But it's hard raising two kids as a single person. It's a lot of pressure."
Does she wish she had a fulltime partner to share that pressure with? "Sometimes, sure," says the actress, who has been single since her on-again off-again relationship with actor Jeffery Dean Morgan ended earlier this year. "I wish I could give them everything that was a perfect little family paradigm, but I can't. Honestly, I feel like that doesn't even exist, or at least I try to tell myself that when I am feeling bad about not providing it."
Click below to read about how Mary Louise prepared William for getting a sibling.

Another challenge was introducing William to the idea that he would be getting a baby sister from halfway around the world.
"I didn't want to give him too much time to ruminate about it," says Mary Louise. "I talked to him about adoption and asked him what he thought about it, so he understood what it was all about. Then one day he said out of the blue, 'Mommy, a brother or sister is something that I don't have, so I think that we should go to the store and get me a brother or sister.' "
A few weeks later, William got the news that he would be getting a baby sister in August. "His response to that was, 'Is that today August?' When I said no, he said, 'Good, because I want to go to the park.' When the time came to go to Africa, you've never seen anyone more excited — never ever."
Parker reports that William, now 5 ½ and a big Gene Kelly fan, is a very protective older brother. For her part, Ash, who turns 3 in August, is already taking after her mom.
"She's really tough," says Mary Louise. "She can hurt herself and then get up and dust herself off. But at the same time, she's really girlie. For her, it's all about purses and panties and sunglasses. She has a massive 'fro that she loves to put flowers in."
As much as she enjoys the praises from Weeds, for Mary Louise it's all about her kids. "Sometimes I just look at them and I think, You are the two coolest people I have ever met," she says. "I was getting ready to come here tonight and my son came up to my trailer and said, 'Where are you going, my beauty?' I hear that, and I don't really need anything thing else."
Source: PEOPLE
— Oliver Jones